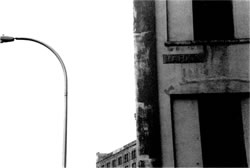 Official Website
http://www.larkinadministration.com/
Biography
If you need to know the essentials upfront, then let's begin like so: the Larkin Administration are a long-running assemblage of musicians, whose death has often been wrongly assumed. Located in the desperate ruins of Buffalo, NY, the Larkin Administration's obstinate qualities and irregular performance dance card has unjustly cast them in the role of enigma to audiences throughout the northeast.
In a time when everything old is re-enacted again, then let's re-enact the relentless need for something different. The gimmick is no gimmick. With sound as its keystone, the Larkin Administration therefore has a history of inspiring passion in its audiences. From fevered blabbering about the band's uniqueness, to bar-quieting shouts and hand-penned notes imploring "Request — Stop", you get the idea. Love is fickle.
Their pigtails dipped into the inkwells of countless angry suitors, the Larkin Administration has been called (excepting expletives) math rock, art rock, experimental, or, simply, loud. The Larkin Administration are none of these (completely), except (maybe) loud. With songs wont to abruptly change, and end in a triumphant crescendo or an auto-eradicating wall of sound, the Larkin Administration has also been called "uncomfortable" to watch—Not so uncomfortable that people stop coming to shows, however.
There is no concise history. Membership has fluctuated between two to four members, with three now being the current average. Personnel have moved across the oceans, across the country, and been kicked out into our Northern neighbor. Band members have labored in concurrent and irrelevant past projects. But the Larkin Administration's L logo has stood fast against its black background, all rugged angles and contrast like the music it portrays. And Yes, that is a pretty romantic image to cast on things.
One drummer, two guitars, and two singers, this is no throwback. It's a broken machine falling down the stairs, it's the loudest sound of sadness and frustration, it's vaudeville, rock, punk and jazz all crushed into one. It is the one sound that confounds.
The band is: Val (ex-concurrent/irrelevant past projects), Paul (ex-concurrent/irrelevant past projects), and Steve (Sonorous Gale, ex-Robot Has Werewolf Hand/The Control). They play guitar (x2), vocals (x2) and drums (x1), respectfully speaking.