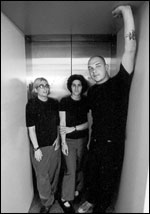 (Former) Official Website
http://www.palomarskysurvey.com/
Biography
One of the figureheads in the thriving indie rock scene in Buffalo, New York, Palomar Sky Survey have become, in their relatively short existence, one of the most innovative and original bands to come out of the Western New York area. Their pure DIY ethics code has earned them a reputation as relentless performers, never ceasing to amaze audiences all over the northeast United States and southern Ontario
Palomar Sky Survey consists of the jangly pop guitar and dreamlike vocals of Val Pimento, the bouncing bass lines of Joel Menter and the tight drumming of Renee Roberts. The trio has mastered the true art of the three minute pop song, albeit in an off-kilter manner. Oddball time signatures, jagged rhythms and lyrics that pull from both innocence and darkness bring to mind such notable indie bands as Rainer Maria, Velocity Girl, Jale, the Softies and Tsunami. However, Palomar Sky Survey also bring in elements of emocore, hardcore and metal (thanks to Joel's unhealthy obsession with Slayer and Motorhead) that makes them more than mere faces in the crowd.
Co-founded by Val and Joel in 1997, the band, then known as the JohnnyFive, recorded an EP entitled "Superhero's Coffee Break". Comprised of their now trademarked simplistic pop melodies, the EP rapidly sold out in various Buffalo independent record shops and received an immense amount of airplay on Buffalo radio stations. In the Spring of 1999, with the addition of Renee (a veteran of various local bands and one of the most reputable drummers in the area), the band quickly matured their style and developed a quirky sense of airiness to their sound. Such changes propelled the band to decide to rename themselves after an astronomy project in California. Soon enough, Palomar Sky Survey was spearheading a major revival in the moribund Buffalo indie scene, touring extensively throughout the northeast United States and southern Ontario - sharing the stage with such bands as Frank Black and the Catholics, The Apples In Stereo, Versus, Les Savy Fav, Cursive, Plumtree, Thrush Hermit, and the Salteens.
Palomar Sky Survey are consistently performing and recording. September 2000 saw the band release a 7" entitled Are We Heading South?—consisting of a blazing rendition of Elvis Costello's "Hand In Hand" backed with two new original tracks. Also, a cassette of recent material, available only at gigs, has given fans an unadulterated sneak preview of their upcoming project, which will be released in 2001. In addition, Palomar Sky Survey will continue their relentless performing schedule, as exemplified by various upcoming shows in both the Spring and the Summer.
Discography
Release Date: 12/2001
Format: CD