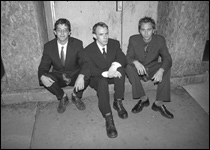 (formerly) Official Website:
http://www.staybitter.com/
Biography
The True History of The Disappointments: The year was 1954, and Ray S. Kneeland had a plan. "I'm gonna make my self rich in the future off of this here Rock n' Roll! And I ain't gonna leave this city to do it, or my name ain't Ray S. Kneeland!". With this oath uttered under the starlit Buffalo night, Mr. Kneeland staggered back into the Town Casino.
The year was 1997, and Jesse James Stewart was busy drinking a cocktail of regret and frustration. "How the hell am I going to get everyone to stop being so happy? I know, I'll call my old friends Erik Von Wild and Paul John Jones III, and we'll start a manic rock and roll band!" And yes, it really was that easy.
The year is 2001, and Ray S. Kneeland's plan is finally coming to fruition. The Disappointments have released C'Mon, Let's Get Bitter!, In A Bitter Mood, the You're A Better Man Than Me 7" and the Buffalo EP (a split with Microsurgeon) to a relatively receptive world. They have played with national bands Superchunk, The Most Secret Method, The Rock*A*Teens, Archer Prewitt, The Figgs, I-Farm, Roger Manning, Cockeyed Ghost, Bugout! and The Hang Ups. Work is underway on the new CD, and "the boys", as Mr. Kneeland likes to call them, now all own more than one suit apiece, and have learned the true meaning of glitter. Rock n' Roll had never seemed so intelligent to him until now.
Discography